Special Interview on "Law and Drone Warfare" with Prof. Dr. Christof Heyns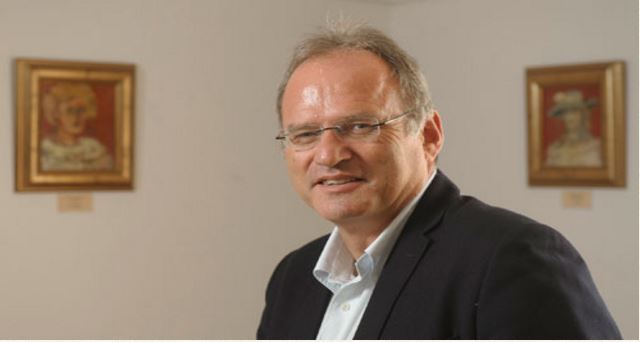 UN Special Rapporteur on extrajudicial, summary or arbitrary executions - Prof. Christof Heyns
Yueh-Hsuan Weng ROBOLAW.ASIA Initiative, Peking University

Date: June. 1st. 2013
Language: English

Prof. Dr. Christof Heyns? Profile:
Christof Heyns holds the degrees MA LLB University of Pretoria; LLM Yale Law School; and PhD University of the Witwatersrand. He is Professor of Human Rights Law and Co-director of the Institute for International and Comparative Law in Africa at the University of Pretoria. In August 2010 he was appointed as United Nations Special Rapporteur on extrajudicial, summary or arbitrary executions. In this capacity he reports to the Human Rights Council in Geneva and the General Assembly in New York.

Professor Heyns is an adjunct professor at the Washington College of Law of the American University in Washington DC, USA, and a Visiting Fellow at Kellog College at Oxford University, UK, where he has been teaching in the masters? programme since 2005.

He is a former Director of the Centre for Human Rights in the Faculty of Law, University of Pretoria, as well as former Dean of that faculty. He has published widely in the field of international human rights law, including the book The Impact of the United Nations Human Rights Treaties on the Domestic Level (with Frans Viljoen) and especially on human rights law in Africa (including the book Human Rights Law in Africa).

His publications have appeared in English, Afrikaans, French, Spanish, Portuguese and Arabic. He has received a Humboldt Fellowship to the Max Planck Institute for International and Comparative Public Law in Heidelberg, Germany, as well as the University of Pretoria?s Chancellor?s Award for Teaching and Learning and was a Fulbright Visiting Scholar at Harvard Law School.


1. Thank you very much for accepting the interview invitation from ROBOLAW.ASIA Initiative, Peking University, I represent our director Prof. Ping ZHANG from Beijing to bring our warmest greetings to you. What are three key issues you see in regard to development and implementation for Lethal Autonomous Robotics?

Christof Heyns: The first point I should make is that while LARs and drones are both forms of unmanned vehicles, they are very different. Drones are remote controlled, by humans who take the decision to ?pull the trigger?, but with LARs an ?n-board computer takes that decision. With LARs there is no ?human in the loop?. LARs are thus qualitatively different from drones, and from any other weapons system we know. This new technology raises a number of concerns, including the following: 1) Do we think it is right that machines should be in a position to decide whether human should live or die? 2) Can LARs meet the requirements of the law of armed conflict, such as distinguishing between military and civilian targets? 3) Who is to be held responsible for deaths caused by robots that would have been unlawful if caused by humans?
2. Since Pakistan, Russia and China are the three main countries to support a special investigation on drone warfare for the UN General Assembly this year [1], could you please mention something about current progress of the UN special investigation to our Chinese readers?

Christof Heyns: My colleague Ben Emmerson is conducting this investigation, he is best placed to answer this question.
3. In February, Mr. Ben Emmerson and you had both attended European University Institute?s High-Level Policy Seminar to give a talk on Targeted Killing, Unmanned Aerial Vehicles and EU Policy [2]. So do European countries have political interests in this issue?

Christof Heyns: Yes I think they are keen to develop their own position in this regard.
4. An emerging risk ?Open-Texture Risk? ? risk occurring from unpredictable interactions in unstructured environments will gradually become a critical issue regarding the robot safety for next generation robots [3]. It is inevitable for Lethal Autonomous Robotics as well. Are there any tentative policy guidelines to ensure these unwanted system behaviors from LARs in the battlefield?

Christof Heyns: I have proposed the appointment of a High Level Panel precisely to investigate the question whether special regulations ? or an out-right ban ? are necessary as a result of these potential problems.
5. What?s your comment to Prof. Roland Arkin?s Embedded Ethics mechanism for LARs [4]?

Christof Heyns: Prof Arkin?s proposed Ethical Governor is an interesting concept and a serious engagement with the issue. It is worth exploring further.
6. In your UN report of the Special Rapporteur on extrajudicial, summary or arbitrary executions which published on April [5], you suggested to establish a ?High Level Panel for LARs?. Could you please introduce your proposal in detail?

Christof Heyns: My report makes two key proposals. The first is a national moratorium in the countries of the world on the use of these weapons. Secondly, these moratoria should be imposed pending the outcome of a study by a High Level Panel, consisting of experts in the field, on how the issue of LARs should be approached. I think there are three possible outcomes: 1) they may say the existing legal and policy framework is sufficient; 2) there should be additional, special regulation for LARs; or 3) they should be banned.
7. Frankly, there is an organization called International Committee on Robot Arms Control (ICRAC) to promote and supervise inappropriate implementations on Lethal Autonomous Robotics [6]. What?s the major difference between ICRAC and your High Level Panel for LARs?

Christof Heyns: ICRAC is an NGO. They do important work but they do not have any official authority, and they are in advance committed to a ban. The panel I propose should be an official UN body and it should investigate all the possibilities with an open mind.
8. Recently, US President Barrack Obama had set out more clearly the legal justifications for targeted killing, and the constraints in regard to usage of drones [7]. Do you have any comments about it?

Christof Heyns: His comments are to be welcomed. Much of the drones programme remains secret but this was a step in the right direction.
References
[1] ?UN report calls for killer robot moratorium?, CBC News, available from http://www.cbc.ca/news/world/story/2013/05/02/un-killer-robot-report.html
[2] European University Institute?s High-Level Policy Seminar on ?Targeted Killing, Unmanned Aerial Vehicles and EU Policy?, in Florence, Italy, Feb. 22. 2013.
[3] 翁岳暄,"人机共存社会中隐含的开放组织风险:评《开放式机器人》",网络法律评论 第13卷,北京大学出版社(2011)
[4] Ronald Arkin, Governing Lethal Behaviour in Autonomous Robots (CRC Press, 2009); Kenneth Anderson and Matthew Waxman, ?Law and ethics for robot soldiers?, Policy Review, No. 176 (2012),available from http://www.hoover.org/publications/policy-review/article/135336.
[5] Christof Heyns, UN report of the Special Rapporteur on extrajudicial, summary or arbitrary executions, April. 9. 2013, available from http://www.ohchr.org/Documents/HRBodies/HRCouncil/RegularSession/Session23/A-HRC-23-47_en.pdf
[6] International Committee on Robot Arms Control (ICRAC), see http://icrac.net
[7] ?Obama Talks Terrorism, Drones, and Guant?namo in Major Speech?, Congressional Digest, available from http://congressionaldigest.com/obama-talks-terrorism-drones-and-guantanamo-in-major-speech/