Special Interview on ?Robot Law in Europe? with Prof. Dr. Eric Hilgendorf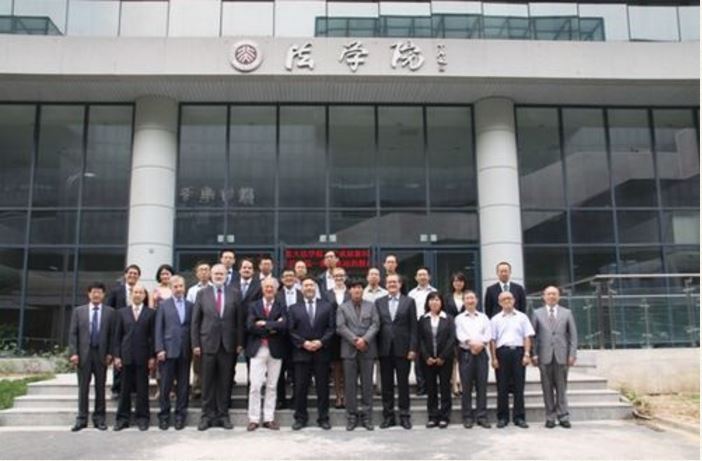 Former Dean of University of Wurzburg Law School - Prof. Eric Hilgendorf
Yueh-Hsuan Weng ROBOLAW.ASIA Initiative, Peking University

Date: September. 9th. 2013
Language: English
专访对象:
After completing high school and military service, Hilgendorf completed a BA/MA equivalent in philosophy, modern history, and law at the University of Tubingen with a Master?s paper entitled ?The Development of Parliamentary Freedom of Speech in Germany.? He then attained a PhD in philosophy for a work entitled ?Argumentation in Jurisprudence? and a PhD iur. In law for a work entitled ?Criminal Law Liability for Producers in the Society of Risk,? which was honored with a prize from the Reinhold und Maria-Teufel-Stiftung.

Hilgendorf habilitated in 1996 in the fields of criminal law, criminal procedure, and legal philosophy with the publication ?On the Distinction between Statements of Facts and Statements of Norms in Criminal Law.? He was made a professor of criminal law and related fields at the University of Constance in 1997 before becoming Dean of the Law Faculty in 1999. In 2001 he moved to the University of Wurzburg and became the Chair of the Department of Criminal Law, Criminal Justice, Legal Theory, Information and Computer Science Law. From 2010 to 2012 he has served as the Dean of the Law Faculty there. His main fields of work are criminal law, data protection and law and technology.
1. Thank you very much for accepting the interview invitation from ROBOLAW,ASIA Initiatve, Peking University, I represent our director Prof. Ping ZHANG from Beijing to bring our warmest greetings to you. What are three key issues you see in regard to development and implementation for service robots in Europe?

Prof. Eric Hilgendorf:
Key issues are questions of civil and criminal liability for damages caused by the service robots, questions of data protection and last but not least questions of acceptance in the public. If the legal problems surrounding these new types of service-robots cannot be solved, the new products will not be successful on the markets.
2. Could you please introduce your affiliation Wurzburg University and the Robot Law Research Centre to us?

Prof. Eric Hilgendorf:
Wurzburg University, founded in 1402, is one of the oldest universities in Europe. All type of research, both in medicine and the natural sciences as in the social sciences and in law, are done there. In 2010, Europe s first Center for Robotlaw was founded in Wurzburg, which now has a staff of nearly 20 persons working on legal problems of semi-autonomous cars, service robots, especially for the elderly, and industrial robots. The center is working in close connection with the German Ministry of Economics.
3. What?s the motivation of you to establish the centre? Are there any other research centres on law & robotics affiliated with law schools in Germany?

Prof. Eric Hilgendorf:
Germany is rather strong in the technical aspects of robot research. In recent years, it became more and more clear that also the legal side has so be considered. Products that produce inacceptable legal risks will not be successful on our market (and other developed markets in the world). After German government authorities asked me to do some research in the area of ?autonomous systems and the law?, a lot of companies contacted me for advice. After that, I decided to found a research center to do thing more efficiently. As far as I know, it is still the only one of its kind in Germany.
4. Do you think robots might face criminal liability? Or the people who use robots might face criminal liability?

Prof. Eric Hilgendorf:
The first idea gives a new meaning to criminal law. We cannot punish machines. But of course, people who use robots in a negligent way might face criminal liability. There have been several cases already. The same is true for people using robots with the intention to cause trouble.
5. An emerging risk ?Open-Texture Risk? ? risk occurring from unpredictable interactions in unstructured environments will gradually become a critical issue regarding the robot safety for next generation robots [1]. Thus, ISO will soon publish the ISO13482 Safety Standard for Life-supporting Robots before the end of this year. Do you have any comments about it?

Prof. Eric Hilgendorf:
It is very good to have these technical norms. They help a lot, especially the people who do the engineering work. But of course, according to European (and also to Chinese) law you can act negligently even if you observe a ISO-Norm carefully. The observance of technical norms is only a single element in an intelligent concept of legal compliance.
6. What?s your comment to Prof. Roland Arkin?s Embedded Ethics mechanism for Lethal Autonomous Robots [2]?

Prof. Eric Hilgendorf:
A good idea. But I am not sure it will really work.
References
[1] Yueh-Hsuan Weng, Chien-Hsun Chen and Cheun-Tsai Sun, ?Toward The Human-Robot Co-Existence Society: On Safety Intelligence for Next Generation Robots?, International Journal of Social Robotics, Vol.1, No.4, Page 267-282, Springer Netherlands, 2009.
[2] Ronald Arkin, Governing Lethal Behaviour in Autonomous Robots (CRC Press, 2009); Kenneth Anderson and Matthew Waxman, ?Law and ethics for robot soldiers?, Policy Review, No. 176 (2012),available from http://www.hoover.org/publications/policy-review/article/135336.