Invstigaceión en ROBOLAW.ASIA
IA, Robótica y Derecho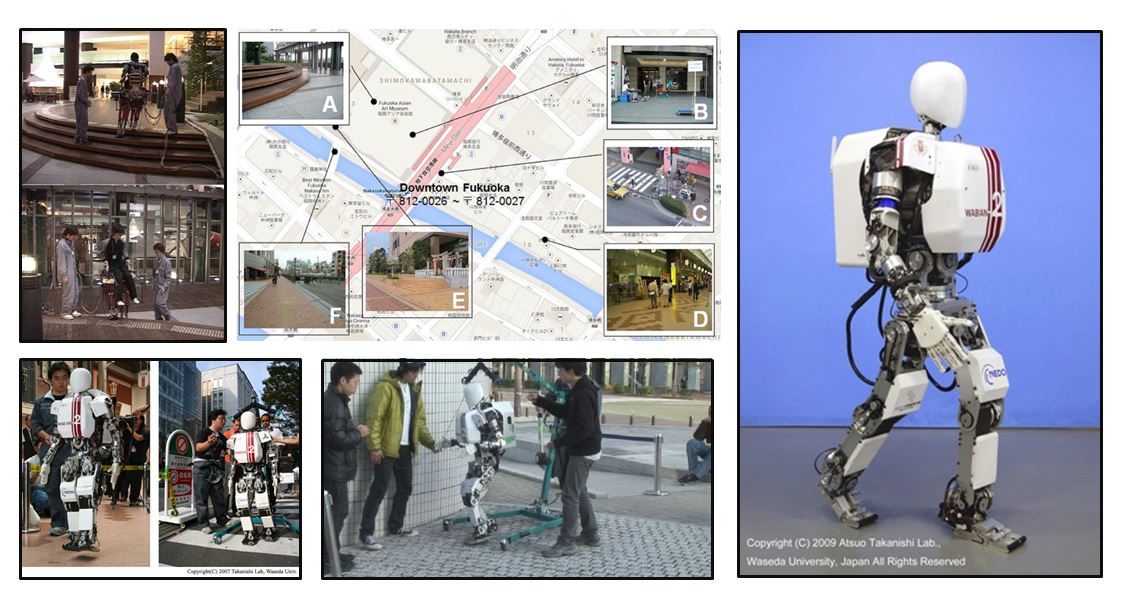 Zona especial en Fukuoka: Se le conoce como la primera prueba de la vía pública en el mundo de los robots humanoides bípedos
Desde 2004, el Ministerio de Economía, Comercio e Industria ha publicado una serie de directrices de política robótica relativas a cuestiones de seguridad y de comercio de la "Nueva Generación de Robots". El Ministerio predijo una "sociedad donde coexistieran hombres y robots" que surgiría hacia el 2030. Sin embargo, la inserción de estos robots en la vida cotidiana de las personas es un proceso gradual. Nosotros creemos que los robots inteligentes serán la róxima tecnología revolucionaria después de los ordenadores personales y de Internet. Es precisamente por ello que hemos establecido la iniciativa ROBOLAW.ASIA, para investigar la intersección entre la inteligencia artificial y el Derecho. Nuestro principal objetivo es reducir los riesgos asociados a los robots a un nivel aceptable.
Un problema emergente es si deberíamos considerar regular o no sobre los robots de servicio. Bajo el actual sistema legal, los robots de servicio no son más que una propiedad o "la segunda existencia"; lo cual no es suficiente para proteger la seguridad y los riesgos morales por lo que se refiere a la coexistencia entre los humanos y los robots. En otras palabras, la nueva perspectiva de la regulación se establecerá bajo la premisa de robots de servicio como "la existencia de la tercera" persona jurídica; Los robots serán objeto de la ley, pero no tendrán un estatus legal especial diferente de las máquinas normales. Sin embargo, la dificultad de implementar nuevas regulaciones para los robots de servicio es algo similar al caso de la regulación de los coches a vapor en el siglo XIX. Es la Regulación de lo Desconocido". Por un lado, estas máquinas podrían causar consecuencias mortales para los seres humanos sin una regulación adecuada. Por otro lado, es difícil para los legisladores mantenerse al día con los avances de la tecnología. Por lo tanto, hay una tendencia al exceso de regulación, similar al caso de los coches de vapor en el pasado.
Para evitar la repetición de las Leyes de Bandera Roja en la era de los robots inteligentes, podemos considerar en primer lugar la "desregulación", y en segundo lugar considerar la zona especial "Tokku" RT.Un área especial como esta puede ayudar a los legisladores y a los fabricantes a identificar muchos riesgos inesperados antes de la inserción de los robots en el mercado. Originado en Japón, aunque la zona especial RT se fundó hace solo 10 años, ya hay muchas zonas especiales establecidas en Fukuoka, Osaka, Gifu, Kanagawa y Tsukuba. A medida que el desarrollo de la robótica y su aceptación en la sociedad se expanden, la importancia de las zonas especiales como una interfaz para robots y la sociedad será más evidente.
Por otra parte, tenemos que ser conscientes de la importancia del derecho público y de la regulación: si bien no nos referimos al debate sobre si los robots deberían tener derechos o si los robots deberían ser reconocidos como sujeto de Derecho por la Constitución, la regulación iría enfocada al diseño, fabricación, venta y uso de dicha robótica avanzada. Una posibilidad podría ser el desarrollo de una "Ley de Seguridad Robótica", que sería la extensión de las normas vigentes de seguridad para máquinas. Estas normas técnicas ubicadas en la parte inferior de la rama de "Derecho y Robótica" podría garantizar la seguridad de esta nueva coexistencia humano-robot.
Por último, la ética robótica y la regulación legal no debería ir siempre en paralelo porque desde el punto de vista de la regulación, Derecho y Robótica es una intersección de la ética robótica y la robótica. Podría ser que no necesitáramos leyes de bandera roja para los robots como Pepper, pero todo dependerá de los estándares morales y de las acciones que tomemos en la regulación de lo desconocido.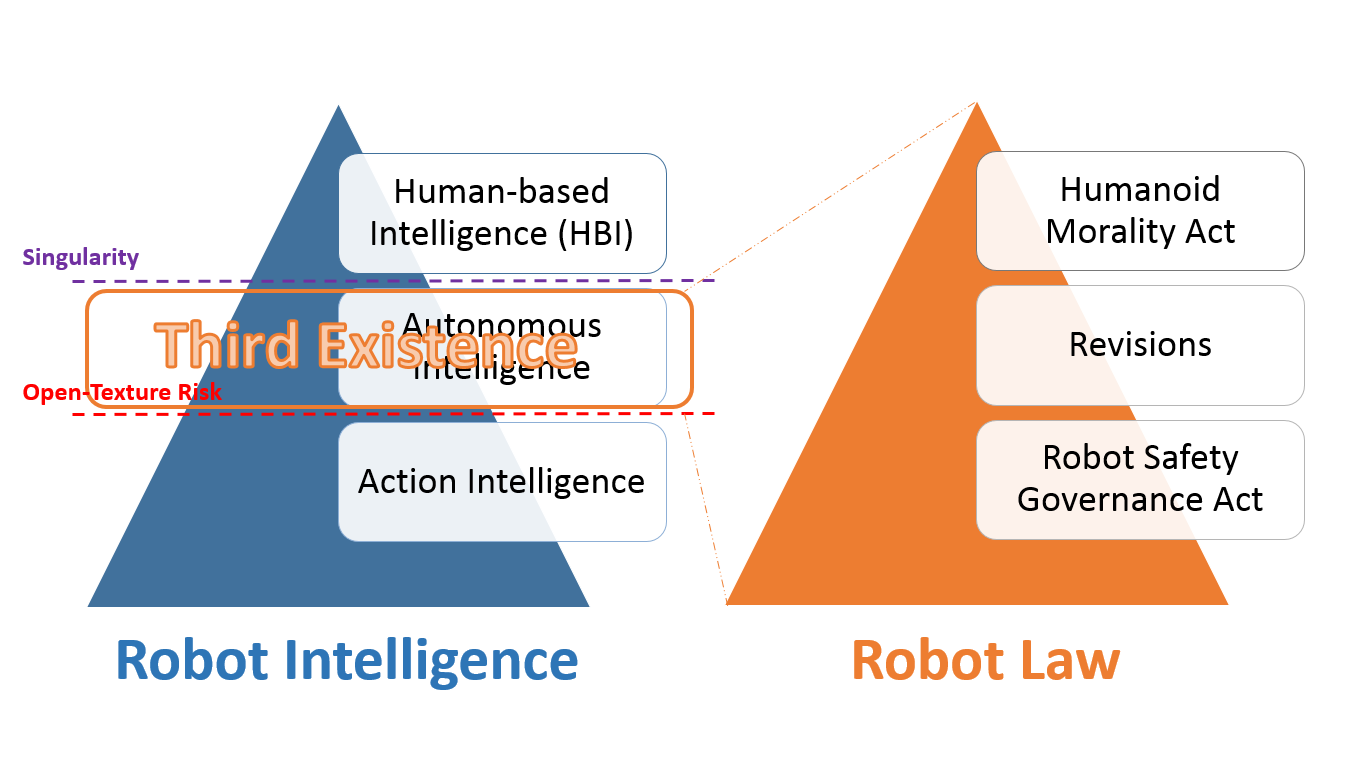 Dos pirámides para la disciplina de Derecho y Robótica
Contribución:
01.Yueh-Hsuan Weng (2016) Regulation of Unknown: A Lesson from Japan's Public Law and Policy for Next-Generation Robots, 12:30-13:30, Room 623, 6/F, Cheng Yu Tung Tower, Faculty of Law, The University of Hong Kong, January 28th 2016 [LINK]
02. Christof Heyns, Gurvinder S. Virk, Yueh-Hsuan Weng (2015) An Exclusive Interview with UN and ISO experts in Robots and Regulation (独家专访 - 联合国与 ISO专家谈机器人和管制问题), TECH and LAW Center [LINK]
03. Yueh-Hsuan Weng (2015) O Direito para Robôs: A Regulação do Direito Robótico no Direito Público do Japão, 10:30-12:30, Sala de Vídeoconferência - 3° andar, UFPR - Universidade Federal do Paraná, Curitiba, November 20th 2015 [LINK]
04. Yueh-Hsuan Weng (2015) Regulation of Unknown: Does the Humanoid Robot "PEPPER" need Red Flag Laws? (未知的调控: 仿人机器人 PEPPER 是否需要红旗法?), TECH and LAW Center [LINK]
05. Yueh-Hsuan Weng (2015) Japan's Robot Policy and the Special Zone for Regulating Next Generation Robots (日本机器人科技政策及去管制化机器人开发・实证实验特区概述), TECH and LAW Center [LINK]
06. Yueh-Hsuan Weng (2015) Japanese Public Policy for Robots and Regulation: An Example of "Tokku" Special Zone, 11:00-13:00, Sala Mansarda, Villa Schifanoia, European University Institute, Florence, April 28th 2015 [LINK]
07. Yueh-Hsuan Weng (2015) Robots and Society: On the Intersection of Special Zone, Robots, and the Law, 10:30-11:30, Via dei Barucci n° 20, ITTIG-CNR, Florence, March 26th 2015 [LINK]
08. Yueh-Hsuan Weng, Yusuke Sugahara, Kenji Hashimoto, Atsuo Takanishi (2015) Intersection of "Tokku" Special Zone, Robots, and the Law: A Case Study on Legal Impacts to Humanoid Robots ("Tokku"特区、机器人、法律的交汇点:关于仿人机器人的实证法律个案研究), International Journal of Social Robotics, Vol. 7, No. 5, Page 841-857, Springer Netherlandsa [LINK]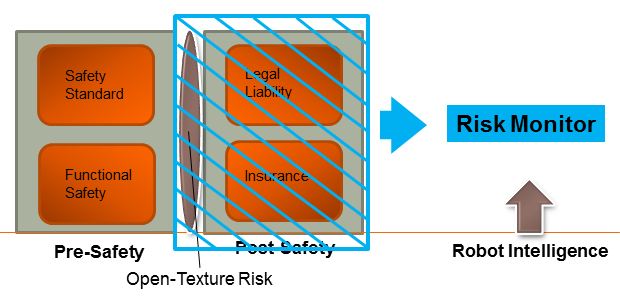 Figure 1. Risk Monitoring Mechanism: For short term consideration, a passive measurement to monitor the Open-Texture Risk.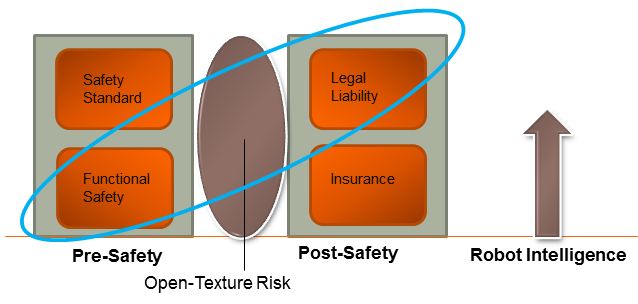 Figure 2. Risk Control Mechanism: For Long term consideration, using active measurement to absorb the Open-Texture Risk. 09. 翁岳暄, [英] Gurvinder S. Virk, 杨书评 (2015) 人类-机器人共存的安全性:新ISO 13482 服务机器人安全标准, 网络法律评论 第17卷, 北京大学出版社 [LINK]
10. 翁岳暄 (2014) 新興科技的應用與衍生問題概述, NTHU 網際網路與法律課程, 2014年12月11日, 10:00-12:00, 台積館121教室, 國立清華大學, 新竹
11. Erica Palmerini, Pericle Salvini, Andrea Bertolini, et al (2014) Guidelines on Regulating Robotics, EU FP7 Project: ROBOLAW [LINK]
12. 翁岳暄, [德] Dominic Hillenbrand (2014) 汽车智能化的道路:智能汽车、自动驾驶汽车安全监管研究, 科技与法律 (STL), No.4, General Issue 110, Page 632-646 [LINK]
13. 翁岳暄 (2014) 服务机器人安全监管问题初探: 以开放组织风险为中心 (The Study of Safety Governance for Service Robots: On Open-Texture Risk), 博士学位论文, 北京大学法学院 [LINK]
14. 翁岳暄 (2014) 军用机器人与战争 , 北大互联网法律通讯, 第10卷第4号 [LINK]
15. 翁岳暄 (2014) 机器人科技,伦理与法律 , 北大互联网法律通讯, 第10卷第3号 [LINK]
16. 翁岳暄 (2014) 机器人 - 历史性的综述, 北大互联网法律通讯, 第10卷第2号[LINK]
17. 翁岳暄 (2013) 《特别专访》维尔茨堡大学 Eric Hilgendorf 教授: "欧洲机器人法律研究" , ROBOLAW.ASIA Initiative [LINK]
18. 翁岳暄 (2013) 《特别专访》联合国海恩斯特别报告员:关于冻结"自主机器人杀手"研发活动 , ROBOLAW.ASIA Initiative [LINK]
19. Yueh-Hsuan Weng (2012-2014) Supporting External Network, EU FP7 Project: ROBOLAW, Scuola Superiore Sant'Anna, Pisa, Italy, June 2012 - September 2014 [LINK]
20.翁岳暄 (2012) 社会机器人: 作为市民伙伴的机器人- Paolo Dario教授专访, 北大互联网法律通讯,第8卷第5号 [LINK]
21. Yueh-Hsuan Weng, Sophie T.H. Zhao (2012) The Legal Challenges of Networked Robotics: From the Safety Intelligence Perspective, M. Palmirani et al. (Eds.), Lecture Notes in Computer Science(LNCS): AI Approaches to the Complexity of Legal Systems, Vol. 7639, Page 61-72, Springer Berlin Heidelberg [LINK]
22. 翁岳暄 (2011) 人机共存社会中隐含的开放组织风险:评开放式机器人, 网络法律评论 第13卷, 北京大学出版社 [LINK]
23. Pericle Salvini, Giancarlo Teti, Enza Spadoni, Emiliano Frediani, Silvio Boccalatte, Luca Nocco, Barbara Mazzolai, Cecilia Laschih, Giovanni Comandé, Emanuele Rossi, Paolo Carrozza & Paolo Dario (2010) An Investigation on Legal Regulations for Robot Deployment in Urban Areas: A Focus on Italian Law, Advanced Robotics, Vol. 24, No. 13, Page 1901-1917, Leiden: VSP-BRILL [LINK]
24. Yueh-Hsuan Weng (2009) Toward The Human-Robot Co-Existence Society: On Legislative Consortium for Social Robotics, IEEE International Conference on Robotics and Automation (IEEE ICRA'09) Workshop on Legal and Safety Issues Related to Autonomous Networked Robots Operating in Urban Environments, (10:40~11:05) Room 404, Kobe International Convention Center, Kobe, 13th May 2009 [LINK]
25. Yueh-Hsuan Weng, Chien-Hsun Chen and Cheun-Tsai Sun (2007) The Legal Crisis of Next Generation Robots: On Safety Intelligence (次世代机器人的法制危机: 安全智能论) , Paper presented on The Eleventh International Conference on Artificial Intelligence and Law (ICAIL'07). Stanford Law School, Palo Alto, California, USA [ Acceptance Rate: 26% ] [PDF]