ROBOLAW.ASIA Forschung
KI, Robotik & Recht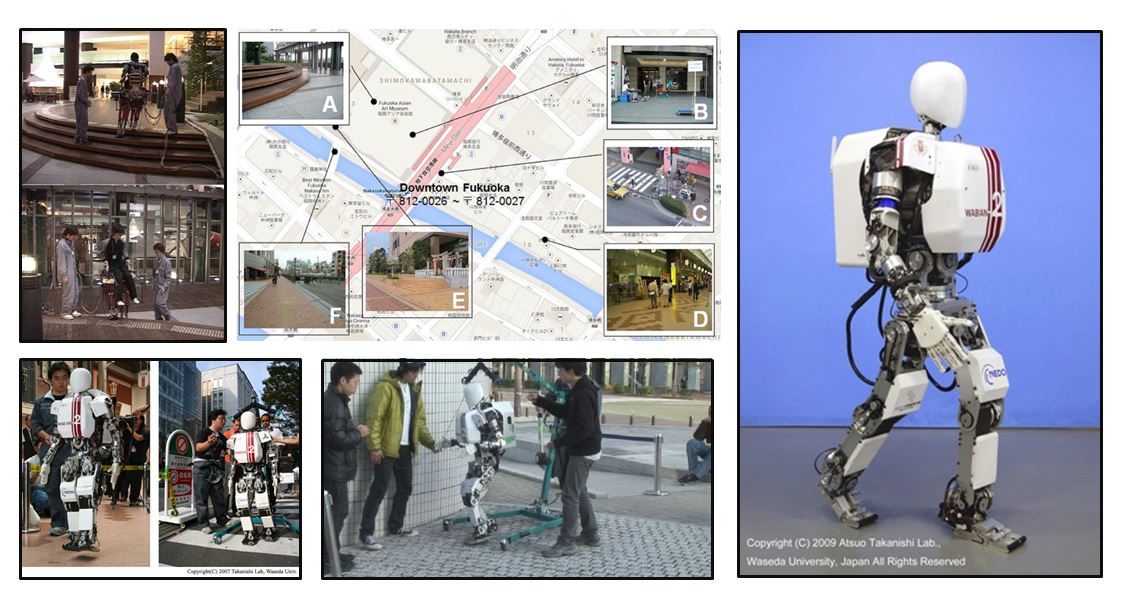 Sonderzone in Fukuoka: Bekannt für die weltweit ersten öffentlichen Straßen zum Testen von zweifüßigen humanoiden Robotern.
Seit dem Jahr 2004, hat das japanische Ministerium für Wirtschaft, Handel und Industrie eine Reihe von Leitlinien zu Robotern veröffentlicht, die Thematiken zum Geschäftlichen und der Sicherheit hinsichtlich Roboter der nächsten Generation adressieren. Darin wird eine Gesellschaft vorhergesagt, die bis zum Jahr 2030 entstehen soll und in der Menschen und Roboter koexistieren Das Eintreten von Robotern in das Alltagsleben der Menschen wird dennoch einen allmählichen, stufenweisen Prozess darstellen. Wir glauben, dass Roboter nach PCs und dem Internet die nächste revolutionäre Technologie sein werden. Aus diesem Grund gründeten wir die ROBOLAW.ASIA-Initiativen, um den Schnittpunkt zwischen künstlicher Intelligenz (KI) und Recht zu untersuchen. Unser Hauptziel ist es, die Risiken, die von Robotern ausgehen, auf einen akzeptablen Bereich zu minimieren.
Ein neues Problem könnte darin liegen, wie wir über eine Regulierung für Service-Roboter nachdenken sollen. Nach der jetzigen Rechtslage sind Service-Roboter nur Eigentum bzw. eine "zweite Existenz", es ist nicht ausreichend, die Sicherheit und die moralischen Risiken hinsichtlich der Koexistenz von Menschen und Robotern zu schützen. Mit anderen Worten, es muss eine neue Perspektive hinsichtlich der Regulierung unter der Prämisse begründet werden, dass Service-Roboter rechtlich eine "dritter Existenz" sind; Roboter unterliegen nach wie vor dem Recht und sollten einen speziellen rechtlichen Status erhalten, der sich von dem normaler Maschinen unterscheidet. Die Schwierigkeit, neue Regulierungen für Service-Roboter umzusetzen, ähnelt der Regulierung von Dampfwagen im 19. Jahrhundert. Es ist eine Regulierung des Unbekannten. Einerseits könnten solche Maschinen ohne ordentliche Regulierung für Menschen tödliche Folgen haben. Andererseits ist es aber für die Regulatoren schwierig, mit dem Fortschritt von Hochtechnologie mitzuhalten. Deshalb besteht eine Tendenz zur Überregulierung, ähnlich wie bei Dampfwagen in der Vergangenheit.
Um die Wiederholung von "Red Flag-Gesetzen" im Zeitalter von intelligenten Robotern zu vermeiden, können wir zunächst "Deregulierung" andenken und gleichzeitig auf die "Tokku" RT Sonderzone verweisen. Eine solche spezielle Zone kann Regulatoren und Herstellern helfen, viele unerwartete Risiken während der finalen Phasen vor der praktischen Anwendung der Roboter auszumachen. Aus Japan stammend, geht die Geschichte von RT Sonderzonen nur 10 Jahre zurück. Dennoch wurden bereits viele Sonderzonen in Fukuoka, Osaka, Gifu, Kanagawa und Tsukuba errichtet. Da die Entwicklung der Robotik und ihre gesellschaftliche Akzeptanz zunimmt, wird die Wichtigkeit von Sonderzonen als ein Platz, wo Roboter und Gesellschaft aufeinander treffen, offensichtlicher werden.
Darüber hinaus muss man sich der Wichtigkeit von öffentlichem Recht und Regulierung bewusst sein. Während das öffentliche Recht nicht von der Diskussion über Fragen von Roboterrechten oder Robotern, die als Rechtssubjekte von der Verfassung anerkannt werden, handelt, kennt es die Regulierung für die Gestaltung, Herstellung, den Verkauf und die Nutzung fortgeschrittener Robotik. Eine Möglichkeit könnte die Entwicklung des "Robot Safety Governance Act", sein, das ist die Erweiterung der aktuellen Maschinensicherheitsvorschriften. Diese technischen Normen, die sich am Ende des "Robot Law" befinden, sorgen für die Sicherheit der neuen Koexistenz von Mensch und Roboter.
Abschließend sei gesagt, dass Roboterethik und gesetzliche Regulierung nicht immer parallel sein sollten, denn aus der Regulierungsperspektive sind Robotergesetze ein Schnittpunkt von Roboterethik und Robotik. Wir brauchen unter Umständen keine Red Flag-Gesetze für Roboter wie Pepper, aber es hängt davon ab, welchen moralischen Standpunkt und welche Handlungen wir gegenüber der "Regulierung des Unbekannten" einnehmen.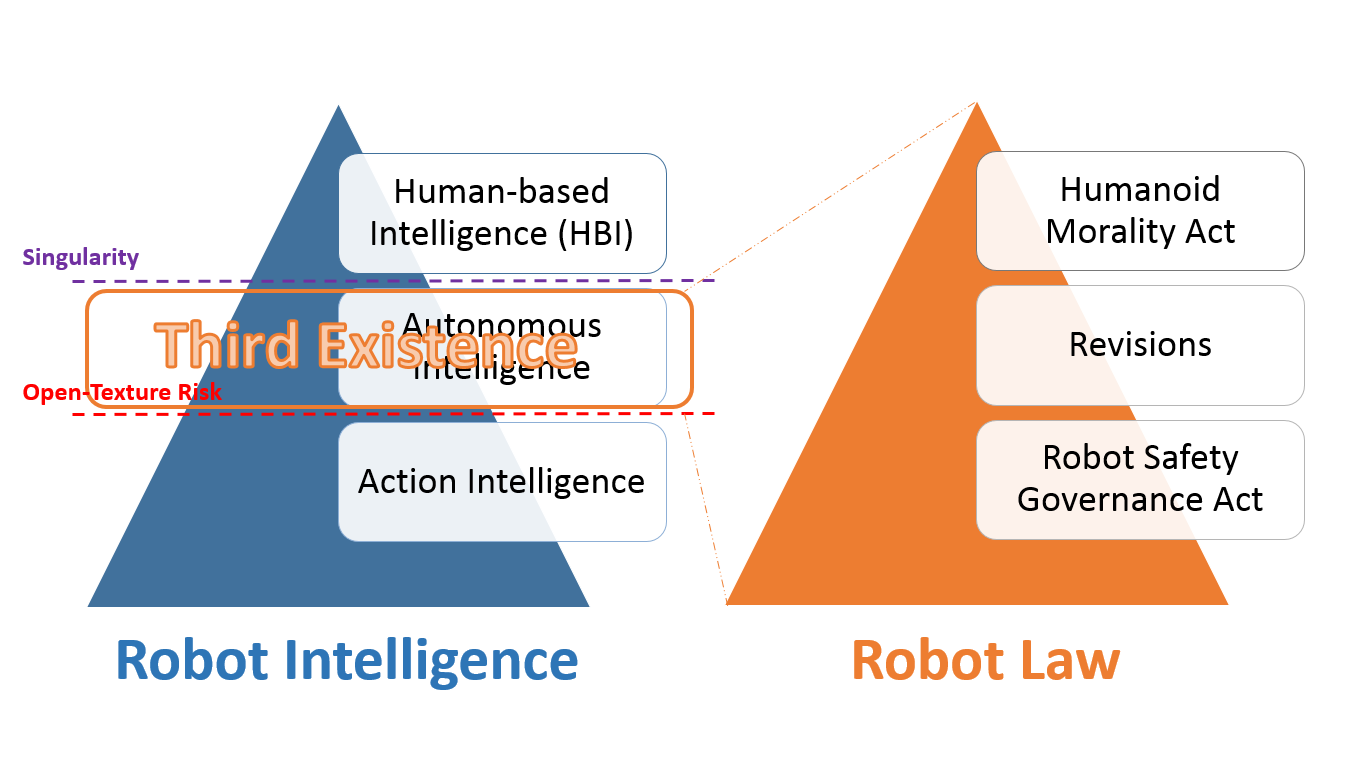 Zwei Pyramiden zeigen Roboter Regulierung
Contribution:
01. Yueh-Hsuan Weng (2017) Towards Integrated Governance for Intelligent Robots: A Focus on Social System Design, in Proceedings of the 20th International Legal Informatics Symposium (IRIS 2017), Universität Salzburg, Austria, Page 191-198, Austrian Computer Society, February 2017, ISBN: 978-3-903035-15-7 [LINK]
02. Yueh-Hsuan Weng (2017) Case Study: Bad Actors and Service Robots, FHI-CESR-CFI Workshop on Bad Actors and Artificial Intelligence, 14:45-15:00, Littlegate House, Oxford, February 19th-20th 2017 [LINK]
03. Yueh-Hsuan Weng (2016) Robot Law 1.0: On Social System Design for Artificial Intelligence, 13:00-14:00, Small Moot Court, room 723, 7/F, Cheng Yu Tung Tower, Faculty of Law, The University of Hong Kong, January 16th 2017 [LINK]
04. Yueh-Hsuan Weng (2016) Regulation of Unknown: A Lesson from Japan's Public Law and Policy for Next-Generation Robots, 1st Annual Conference of the Center for Law and Internet (CLI) Session: Ethics and technology, 15:20-16:30, West-Indisch Huis Amsterdam, November 17th 2016 [LINK]
05. Mady Delvaux-Stehres and Yueh-Hsuan Weng (2016) A European perspective on robot law: Interview with Mady Delvaux-Stehres, TECH and LAW Center & Robohub [LINK]
06. Yueh-Hsuan Weng (2016) Regulation of Unknown: A Lesson from Japan's Public Law and Policy for Next-Generation Robots, 12:30-13:30, Room 623, 6/F, Cheng Yu Tung Tower, Faculty of Law, The University of Hong Kong, January 28th 2016 [LINK]
07. Christof Heyns, Gurvinder S. Virk, Yueh-Hsuan Weng (2015) An Exclusive Interview with UN and ISO experts in Robots and Regulation, TECH and LAW Center [LINK]
08. Yueh-Hsuan Weng (2015) O Direito para Robôs: A Regulação do Direito Robótico no Direito Público do Japão, 10:30-12:30, Sala de Vídeoconferência - 3° andar, UFPR - Universidade Federal do Paraná, Curitiba, November 20th 2015 [LINK]
09. Yueh-Hsuan Weng (2015) Regulation of Unknown: Does the Humanoid Robot "PEPPER" need Red Flag Laws?, TECH and LAW Center [LINK]
10. Yueh-Hsuan Weng (2015) Japan's Robot Policy and the Special Zone for Regulating Next Generation Robots, TECH and LAW Center [LINK]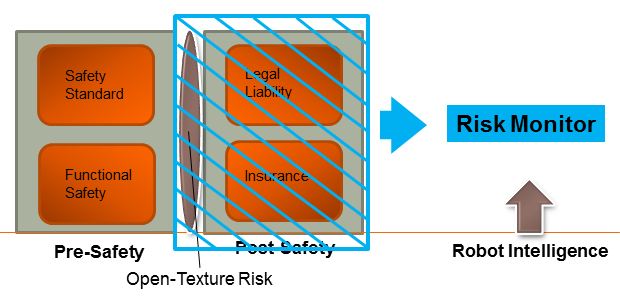 Figure 1. Risk Monitoring Mechanism: For short term consideration, a passive measurement to monitor the Open-Texture Risk.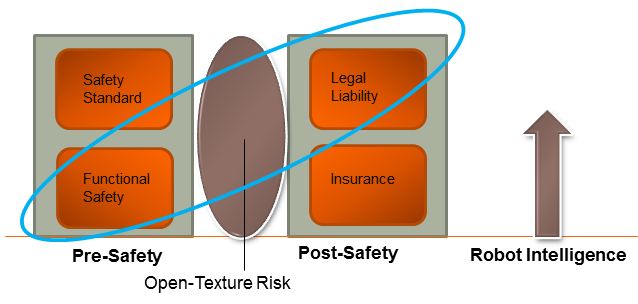 Figure 2. Risk Control Mechanism: For Long term consideration, using active measurement to absorb the Open-Texture Risk. 11. Yueh-Hsuan Weng (2015) Japanese Public Policy for Robots and Regulation: An Example of "Tokku" Special Zone, 11:00-13:00, Sala Mansarda, Villa Schifanoia, European University Institute, Florence, April 28th 2015 [LINK]
12. Yueh-Hsuan Weng (2015) Robots and Society: On the Intersection of Special Zone, Robots, and the Law, 10:30-11:30, Via dei Barucci n° 20, ITTIG-CNR, Florence, March 26th 2015 [LINK]
13. Yueh-Hsuan Weng, Yusuke Sugahara, Kenji Hashimoto, Atsuo Takanishi (2015) Intersection of "Tokku" Special Zone, Robots, and the Law: A Case Study on Legal Impacts to Humanoid Robots, International Journal of Social Robotics, Vol. 7, No. 5, Page 841-857, Springer Netherlandsa [LINK]
14. Yueh-Hsuan Weng, Gurvinder S. Virk, Shuping Yang (2015) The Safety for Human-Robot Co-Existing: On New ISO 13482 Safety Standard for Service Robots, Internet Law Review, Vol. 17, Page 229-244, Peking University Press [LINK]
15. Yueh-Hsuan Weng (2014) Introduction to Applications and Challenges of Emerging Technologies, Master Course: The Laws of Cyberspace, 10:00-12:00, Room 121, TSMC Building, National Tsing Hua University, Hsinchu, December 11th 2014
16. Yueh-Hsuan Weng, Dominic Hillenbrand (2014) The Intelligentization of Automobiles: Smart-Cars, Robo-Cars and their Safety Governance, Journal of Science, Technology and Law (STL), No.4, General Issue 110, Page 632-646, 2014 [LINK]
17. Yueh-Hsuan Weng (2014) The Study of Safety Governance for Service Robots: On Open-Texture Risk, Ph.D. Dissertation, Peking University Law School, Beijing, May, 2014 [LINK]
18. Yueh-Hsuan Weng (2014) A Review on Military Robots and Warfare, PKU Internet Law Watch, Vol. 10, No. 4
19. Yueh-Hsuan Weng (2014) The Robot - Technology, Ethics and Law, PKU Internet Law Watch, Vol. 10, No. 3
20. Yueh-Hsuan Weng (2014) Robots - A Historical Review, PKU Internet Law Watch, Vol. 10, No. 2
21. Yueh-Hsuan Weng (2013) Special Interview on "Robot Law in Europe" - with Prof. Dr. Eric Hilgendorf, ROBOLAW.ASIA Initiative [LINK]
22. Yueh-Hsuan Weng (2013) Special Interview on "Law and Drone Warfare" - with Prof. Dr. Christof Heyns , ROBOLAW.ASIA Initiative [LINK]
23. Yueh-Hsuan Weng, Sophie T.H. Zhao (2012) The Legal Challenges of Networked Robotics: From the Safety Intelligence Perspective, M. Palmirani et al. (Eds.), Lecture Notes in Computer Science(LNCS): AI Approaches to the Complexity of Legal Systems, Vol. 7639, Page 61-72, Springer Berlin Heidelberg [LINK]
24. Yueh-Hsuan Weng (2012-2014) Supporting External Network, EU FP7 Project: ROBOLAW, Scuola Superiore Sant'Anna, Pisa, Italy, June 2012 - September 2014 [LINK]
25. Yueh-Hsuan Weng (2012) Yahoo! Research Grant, "The Internet of Things and Automation: Legislation and Policy Research", PKU-Yahoo! Internet Law Center
26. Yueh-Hsuan Weng (2012) (1) The Internet of Things and Automation: Overlapping the Real and Virtual Worlds, PKU Internet Law Watch, Vol. 8, No. 5
27. Yueh-Hsuan Weng (2012) (2) Intelligent Transportation: Addressing the Liability Impact of Automated Systems: with Prof. Dr. Giovanni Sartor and Dr. Giuseppe Contissa, PKU Internet Law Watch, Vol. 8, No. 5
28. Yueh-Hsuan Weng (2012) (4) Social Robots: Robot Companions for Citizens: with Prof. Dr. Paolo Dario, PKU Internet Law Watch, Vol. 8, No. 5
29. Yueh-Hsuan Weng (2012) Law & Networked Robotics: Some legal Issues on the Internet of Things, Aula 6, 12:00-15:00, SSSA Seminar, Scuola Superiore Sant'Anna, Pisa, June 6th 2012
30. Yueh-Hsuan Weng, Sophie T.H. Zhao (2011) The Legal Challenges of Networked Robotics: From the Safety Intelligence Perspective, XXV. IVR World Congress on Philosophy of Law and Social Philosophy Special Workshop on AICOL, (16:00~16:20) Room HZ 8, Building N.4, Goethe-Universität Frankfurt, Frankfurt am Main, 15th August 2011 [LINK]
31. Yueh-Hsuan Weng (2011) Networked Robots: A Brief Look at Its Possible Legal Implications, IEEE International Conference on Robotics and Automation (IEEE ICRA'11) Workshop on Roboethics, (16:30~17:00) Room 5B, SHICC, Shanghai, 13th May 2011 [PDF]
32. Yueh-Hsuan Weng (2011) The Open-Texture Risk in the Human-Robot Co-Existence Society: A Review on "Open Robotics", Internet Law Review, Vol. 13, Peking University Press [LINK]
33. Yueh-Hsuan Weng (2009) Toward The Human-Robot Co-Existence Society: On Legislative Consortium for Social Robotics, IEEE International Conference on Robotics and Automation (IEEE ICRA'09) Workshop on Legal and Safety Issues Related to Autonomous Networked Robots Operating in Urban Environments, (10:40~11:05) Room 404, Kobe International Convention Center, Kobe, 13th May 2009 [LINK]
34. Yueh-Hsuan Weng, Chien-Hsun Chen and Cheun-Tsai Sun (2007) The Legal Crisis of Next Generation Robots: On Safety Intelligence, Paper presented on The Eleventh International Conference on Artificial Intelligence and Law (ICAIL'07). Stanford Law School, Palo Alto, California, USA [ Acceptance Rate: 26% ] [PDF]